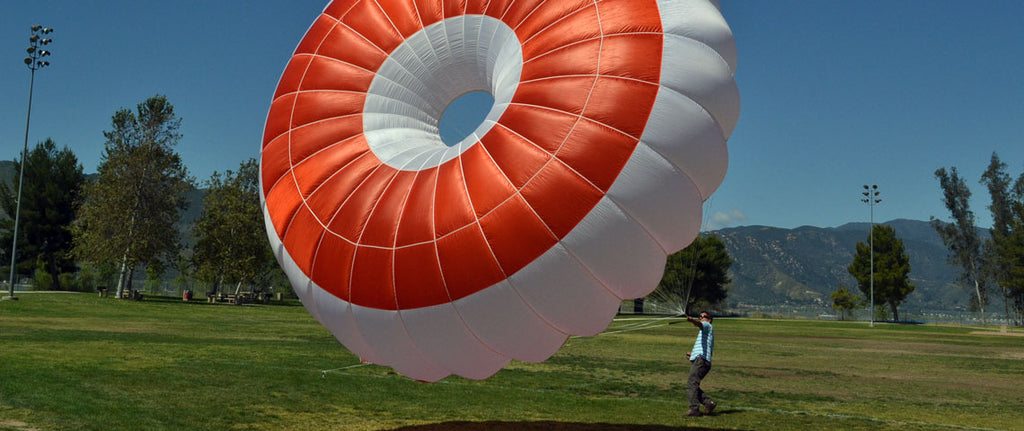 WillsWing
LARA Parachutes (Free Flight Enterprises)
As of 2022, the non-Gold LARAs are being phased out and will not be manufactured any more.  WillsWing is no longer involved with the LARA parachutes.
Free-Flight Enterprises offers a full line of emergency reserve parachutes for hang gliding and paragliding. With good and consistent decision making, you will most likely never need to use an emergency reserve. If the worst happens, and you should encounter a structural failure, mid-air collision, irrecoverable collapse or incapacitating medical emergency, your emergency reserve is your last, best chance to avoid serious injury. Wills Wing has been selling emergency reserve parachutes since 1978, and we believe we have the best products in the industry.
Choosing the right parachute is the first step, but looking after your safety in this area doesn't end with your purchase of a reserve. You need to maintain your parachute, protecting it from damage and having it re-packed regularly, and you need know how to use it. You can take care of both of these needs by attending a parachute seminar, practicing a simulated deployment under supervision, and then having your chute re-packed.
You can read more about the proper use and care parachute systems here.
Free Flight LARA Reserve Parachute
Wills Wing offers the LARA (Low Aspect Ratio Annular) Emergency reserve parachute for hang glider and paraglider pilots. The LARA is a higher performance alternative to conventional Conical and PDA (Pulled Down Apex) configurations. The LARA's aerodynamically efficient shape produces a higher drag coefficient and corresponding lower descent rate during an emergency deployment. It also offers the best value (price/performance) available today.
The LARA was designed by Vertigo Inc., and is fabricated 100% in America by Free-Flight Inc. The combination of Wills Wing, Free-Flight and Vertigo assure the highest standard of quality available.
The LARA 250 was drop tested eight times by the United States military. Data was gathered at the rate of five samples per second utilizing a SOMAT data logger with on-board altimeter instrumentation. The average descent rate (corrected to sea level) with a 200 pound payload was only 17.5 feet per second! The US military uses 24 feet per second as a maximum allowable descent rate for emergency reserve parachutes. This low descent rate is comparable to the 24 gore PDA being manufactured by Free Flight Enterprises for tandem use.
Free Flight has drop tested all LARA models, with payloads 25% above nominal weight, at 90 knots. No canopies were damaged. These tests also verified the exceptional descent rate performance. (Note: Descent rates shown in the specifications below are based on average descent rates obtained in drop tests from airplanes conducted by Free Flight Enterprises. There is characteristically a significant amount of scatter in parachute drop test data).
There are no structural differences between the HG and PG canopies. The PG canopy can be converted for hang gliding applications by adding a bridle extension, however we strongly recommend a Paraswivel which is integral on the HG configuration. Without a Paraswivel, a spinning broken hang glider can close the canopy by twisting the bridle and shroud lines.
The LARA is available in three sizes (175, 250, 400) and four configurations.
HG
LARA 175 Gold
LARA 250 Gold
LARA 400 Gold
System Weight (lbs)
4.7
4.9
7.8
Pilot Weight (Max.) (lbs)
175
250
450
Descent Rate (f/s)
18.5
Comparable PDA Pack
18
20
24
Comparable PDA Desc.
22
24
28
Bridle Material
Kevlar
Kevlar
Kevlar
Bridle Length (ft)
24
24
24
Shroud Lines
Spectra
Spectra
Spectra
Paraswivel
Integral
Integral
Integral
Current Inventory Levels
**if stock of zero is shown and you can still add the item to you cart, you can place the order and we will advise on a delivery time
LARA 175 Gold - 0 in Stock
LARA 250 Gold - 0 in Stock
LARA 400 Gold - 0 in Stock
Hi looking for a Lara 250 - do you still make them?

They aren't available right at this moment (Mar '22).  The non-Golds have been discontinued but we are not sure if/when the Gold 250s will be available.

I'd recommend looking at my review on the DiamonCross as they are readily available and have superior performance (sink rate).  They are a next-generation chute!

https://instinct.pro/blogs/news/review-charly-diamondcross-delta-reserve-parachute

Hi, I weigh 168 lbs , can I safely fly with a Lara 175? Thanks

There is a short explanation to your qustion on our Parachutes page as there is no absolute answer to your question (it is a VERY common question).

But yes, the LARA 175 supports a pilot weighing up to 175lbs (body weight....it takes the typical glider and harness weight into its calculation).  See https://www.willswing.com/lara/ for more info
---
Share this Product
---
More from this collection