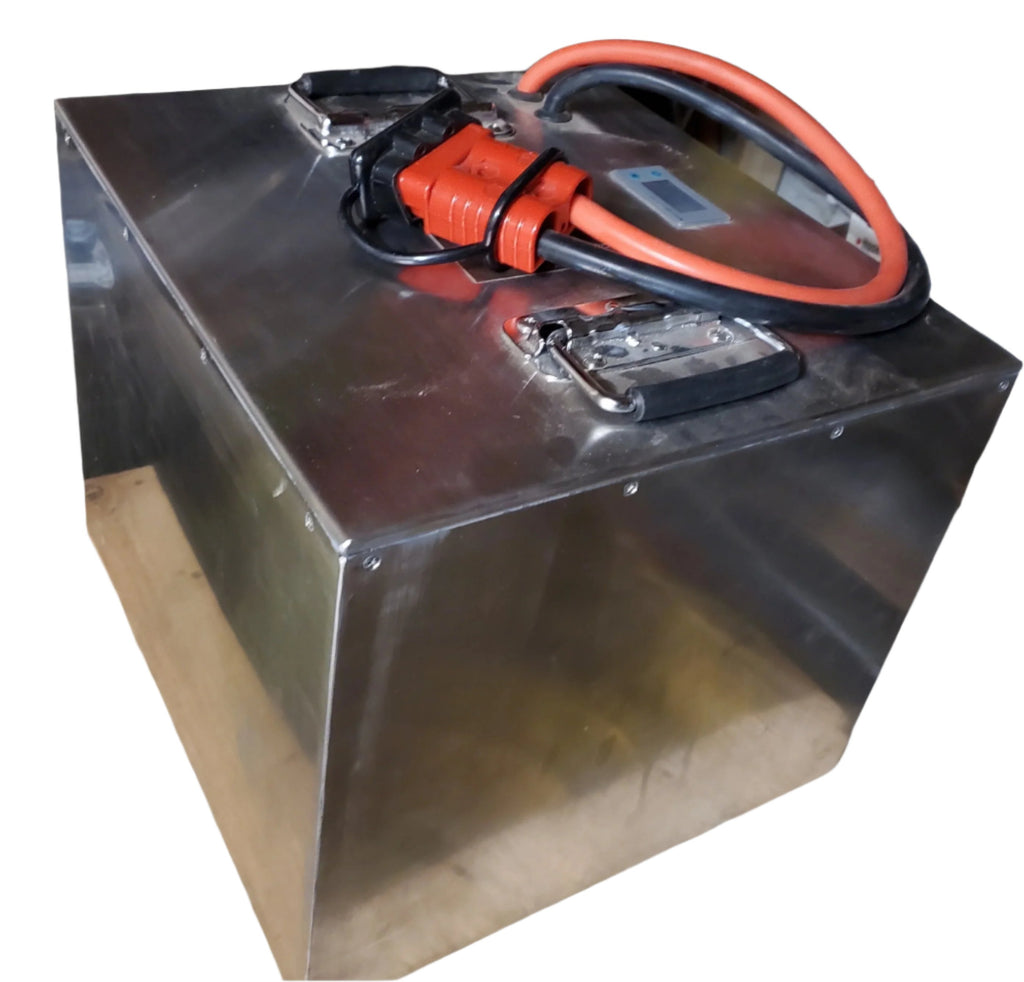 Instinct Windsports
Vortex Battery - LiFePO4 (LFP)
This is a custom manufactured battery to meet our specific power requirements.  We opted for LiFePO4 over LiIon as they are more robust since we are sometimes towing in a harsh environment.
LiIon batteries tend to blow up into an inferno if the battery cells are compromised.  Here is an example of ONE cell of a LiIon battery exploding...our batteries have about 100 of those in it!   LiFePO4 batteries don't explode like this if compromised....they still need some attention to keep them safe and you should also carry a fire extinguisher with you when towing.
The bigger the battery you get (the Amp Hour (Ah) rating), the more tows you will get in a single charge.  The 50Ah battery is suitable for towing tandem hang gliders.  As of Sept 2023, we haven't done enough tandems in one day to drain the battery completely so we don't yet know how many tandems to expect in a single charge.
The battery does get warm even after one tow but cools down quickly enough as we reset for the next tandem.  If you are tandem towing in a high volume environment, we would suggest buying two batteries as you may find one is getting warm and this way you won't run out of power!
We can now ship these batteries direct from our manufacturer to you - this saves CONSIERABLE time and expense.  A 'reasonable' cost of freight is included in the cost listed here.  If shipping rates increase, we may have to pass on additional costs to you.  You will also have to pay for any duties, brokerage and taxes that may incur upon it arriving in your country.  It ships UPS and their brokerage rates are very reasonable.

The cost listed here includes a battery charger.
The bigger the battery (Ah) you get, the more tows per charge you will get.  Our estimation on our tandem battery (50Ah) battery is at least 30 solo hang gliding tows.   Charging time is approximately six hours.
75Ah = 120lbs/55kg
50Ah = 73lbs/33kg
30Ah = 42lbs/19kg
15Ah = 24lbs/11kg
Current Inventory Levels
**if stock of zero is shown and you can still add the item to you cart, you can place the order and we will advise on a delivery time
50Ah - 1 in Stock
30Ah - 0 in Stock
15Ah - 0 in Stock
75Ah - 0 in Stock
Is it possible to use the winch connected to an external petrol generator?

No.  Petrol generators can't deliver 72v nor the continuous amperage the motor needs.  It takes a lot of power to tow!  :)
---
Share this Product
---
More from this collection