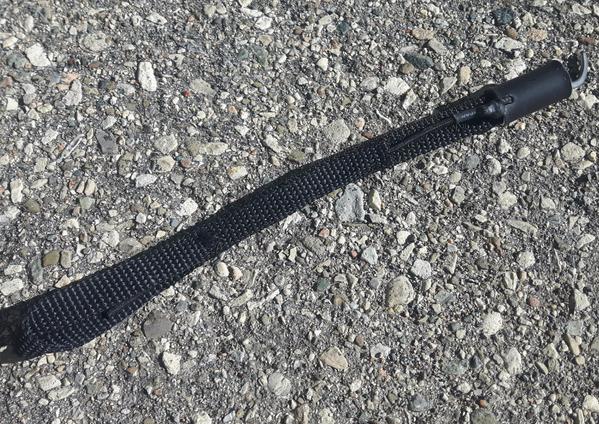 Instinct Windsports
"The Ollie" Push & Pull Pro Tow Barrel Release
EVOLUTIONARY. A barrel release (aka ProTow) that can be released both under tension and not under tension! The retractable bungee cord helps for releasing in either direction....while under tension the bungee keeps the barrel from slipping back and causing a premature release and if you need to release while there is no tension on the tow rope, the bungee can be stretched to pull the barrel away from you, allowing the release pin to flip which then allows the tow line to exit out the barrel.
Stainless steel release pins are used. Bungee connection is heat-shrink wrapped for security and to reduce snags. Barrel is heat-shrink wrapped for your protection.
Only available in all-Black. 
Credit goes to Ollie Gregory for the simple, yet revolutionary idea.
Ollie passed on the history lesson on why he came up with this design - read here
It's prudent to have as many options to release from tow ropes as possible. We recommend having a barrel release on either shoulder and of course carry a hook knife in case both barrel releases fail. Replace your weak-links often but never count on them breaking!
Even though Instinct is a big fan of stationary towing, we strongly recommend AGAINST using barrel releases for ANY winch towing (payout, scooter, stationary).  We believe these push-pull releases are the best option for that but still only recommend using a Koch-style 2-stage release (VERY hard to find).
If you want spectra tow bridles, a pair can be added below. They are made out of 7/64" Amsteel Spectra....it is from our used tow rope so the line is faded (that is why they are cheap!)...but still ample strong for aero-towing bridles.
Here is an interesting story on why NOT to use your shoulder barrel release first if you are also towing from the keel.  IF it snags on the tow rope, it would induce an instant tuck and you can never count on your weak-link breaking
Current Inventory Levels
**if stock of zero is shown and you can still add the item to you cart, you can place the order and we will advise on a delivery time
0 in Stock
Can these be used for stationary/scooter winch towing?

They 'can'....but we highly recommend against using ANY barrel release for stationary winch towing.  Barrel releases don't release when there is no tension on the tow rope....that was the whole idea for this design of barrel release.  We use a Koch-style 2-stage release that has spring loaded pins to almost 'eject' the line when the release is activated.  A much more reliable solution for winch towing.
---
Share this Product
---
More from this collection