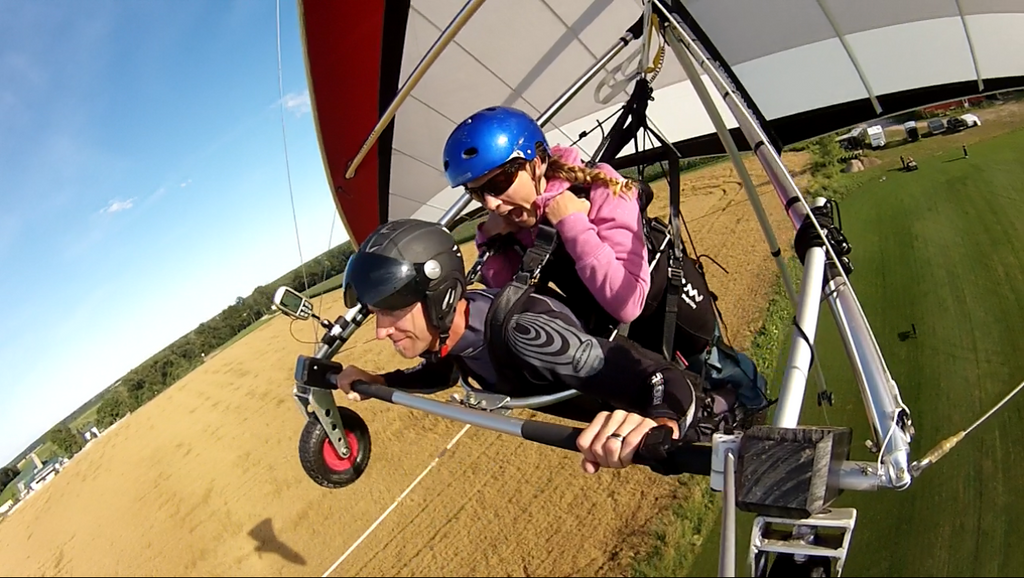 Instinct Windsports
Tandem Flight
2023 Update.  My apologies but we have yet resume doing tandem flights.  We currently don't have suitable crew/staff to make tandems happen quite yet.  Tune back into this page or follow us on Facebook for updates.
Thrill-seekers, social clubs - this is for you! Enjoy a tandem ride with a certified tandem pilot by getting towed up to approximately 1500' or more with our high-powered winch. Once you release from tow, your instructor can pass the controls over to you for a quick lesson on how a hang glider works and have you pilot the glider for a while (if you so desire). Times can vary, but it lasts about 10 to 15 minutes from take-off to landing.
The Process (in order of priority)
Grab a time slot on our booking calendar that suits you.
Check our Facebook page the morning of your reservation for confirmation that the tandems are confirmed before you drive out.  If in any doubt, please txt us at 226-602-3590.
Pay for your flight either on this page (just add it to your cart and check-out) or you can pay onsite using cash (don't forget the taxes!), credit card or interac e-transfer.
Be sure to read our Frequently Asked Questions to make sure you are best prepared to enjoy the experience!
Hang-gliding is always very weather dependent, but note that presently (as of June 2018) we have a few extra restrictions this season due to sod crop harvesting and availability of fields in certain wind directions. Thank you for your patience in the event your flight needs to be rescheduled due to weather restrictions. We start to get a reasonable idea of the weather/forecast around 12 to 24hrs in advance of your flight time.
It is OK to just book a time-slot here and pay for it when you come out.  If you plan on paying for it using credit card, it's best that you pay for it online here as it is one less thing to do at the field.
You also don't have to decide now about the video, you can pay for that at the field as well.  Price for the in-flight video is $25 and you take home the SD card!
Important notes!!  Please read the info on the booking calendar, it will answer a lot of your questions on how to be best prepared for your flight.  You are also emailed instructions once you fill out your reservation on the booking calendar.  Also please read our Frequently Asked Questions, it will likely answer most of your questions...if it doesn't, please contact us with other questions you may have!
Groups!  It's always more fun when you bring friends out.  We have group pricing if you bring a group of five out - contact us for pricing.  The best part is you can pick a day that suits your group best...not just Saturday afternoons which is our only option on our booking calendar.  We can accommodate group requests when we can get a crew together and the weather cooperates.  Weekday evenings often work as well as Sunday afternoons.  Weekday afternoons are a little tougher but certainly possible.  We budget one hour for every two tandems so it just depends what time we can get off of our day-jobs and what time the sun sets!
Directions  The best way to find us is to use your maps app on your smartphone while on the way out.  Just search for "Instinct Windsports" and it will take you right to us - no actual address needed!  Public transit does not come close to our field - we are out in the country!
Using a Garmin/TomTom car GPS is not recommended as the actual address is tricky at times as it is a country road. 
1189 Weeby Place, St Jacobs may work
Township Road 30, Wilmot may work as well
Waivers  Of course, a waiver needs to be signed prior to flying.  To speed up the process, we would like you to fill our our waiver ahead of time.  It also reiterates how serious we take bringing this experience to you - we trust you take it just as serious.  You can find the tandem waiver here
 Here are two priceless videos of some happy customers!  PLEASE keep in mind the "roller coaster" is totally optional.  Most of the flight is a nice, smooth, calm flight.
Current Inventory Levels
**if stock of zero is shown and you can still add the item to you cart, you can place the order and we will advise on a delivery time
-54 in Stock
Good day. I am looking to take hang gliding lessons so as to buy my own glider and do hang gliding on my own. Do you guys offer lessons on certification? Thank you

We sure do!

See here for more info:  https://instinct.pro/pages/courses

Are you offering tandem flights in 2023? looking for some ideas for gifting at christmas and for something adventurous to do for me

I 'hope' so.  I just can't guarantee at this moment.  The COVID shut-down has left me a shortage of a suitable site and crew.  We hope to get our act together for spring 2023!
---
Share this Product