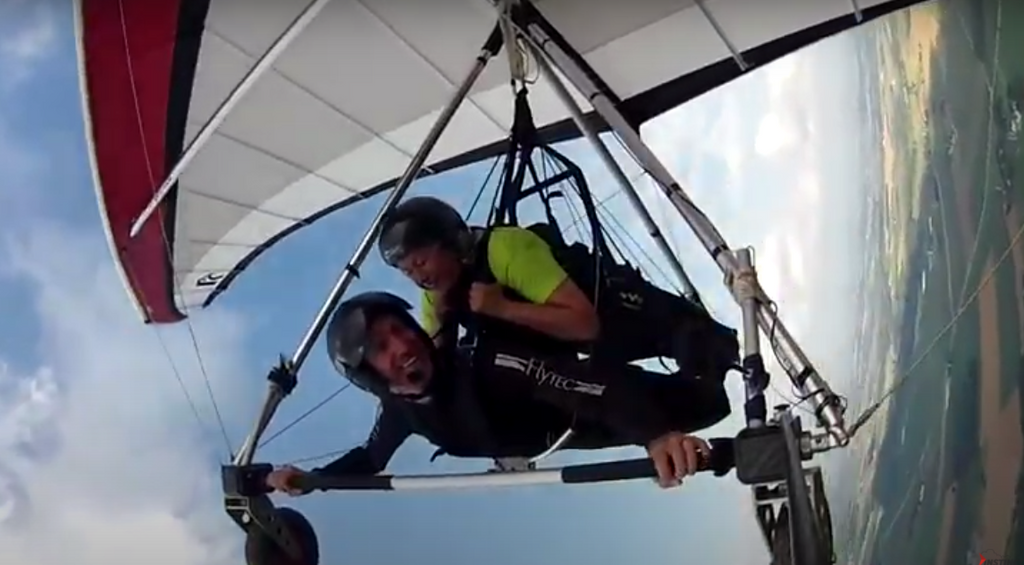 WoodyValley
Cabrio Tandem Double-Decker harness
WoodyValley doesn't advertise them but they have been making them since before 2012 - that is when we got ours!  I won't do tandems without a double-decker harness.  We first used side-by-side harnesses when we started doing tandems but it was always an awkward setup - very uncomfortable for both pilot and passenger and very hard to switch places and then the student was always off-centre and disoriented for training.
I thought it would be 'less personal' having the student-passenger up top but it was just as easy to converse with them.  It was also more comfortable for them to be up and out of the way. 
The bigger factor for me was the safety aspect - since they can't reach down to the basetube, they will never have the mechanical advantage over the instructor to overpower them.  They still have GREAT control of the glider from up on the downtubes while the instructors is always down on the basetube to help, resume control of the glider and over-power the student pilot should they make a mistake.

This made a HUGE difference in the success of our tandem training flights!  Of course, this style of harness only works for when you are taking off from built-in landing-gear (not foot launching off of a hillside).
They come from WoodyValley as a "stirrup" style (open legged with foot bar) but we added cocoon-style leg covers for increased comfort.  The stirrup-style is easier for passengers to get in and out of but we manage just fine with our cocoons.
Current Inventory Levels
**if stock of zero is shown and you can still add the item to you cart, you can place the order and we will advise on a delivery time
Stock (stirrup) - 0 in Stock
Custom (cocoon) - 0 in Stock
QUESTIONS & ANSWERS
Have a Question?
Be the first to ask a question about this.
Ask a Question
---
Share this Product
---
More from this collection