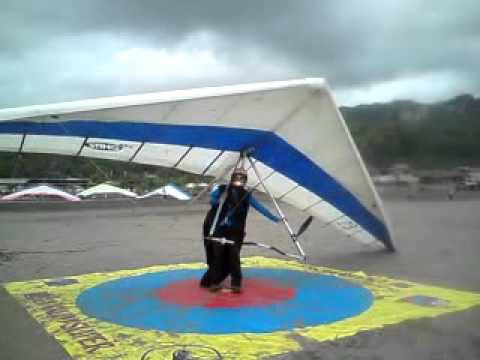 Instinct Windsports
Landing Clinic
Nothing takes the fun away from our sport more than bad landings.  Lack of confidence on your landings can cause so much stress that you don't look forward to going flying.
Remember the old saying, "Take-offs are optional, landings are mandatory"
With our flying season so short, we highly recommend an annual landing clinic.  Most veteran pilots that only fly locally only get a handful of flights in in a year....how are you supposed to keep current on your landings.  With our scooter winch we can streamline a session and power-through raising your confidence level while having an instructor right there to witness all stages of flight and critique on landing approaches and flare timing and flare technique.
You should also do this session everything you upgrade to a new wing!
Recommended gear & skills - to make the most out of a session, you should be current on stationary winching and with how Instinct does it.  It won't take long to get you up-to-speed but we may do things a bit different than what other schools do.  If you are current on stationary winching, you should use whatever glider you normally fly....however, if not, you should rent one of our Falcons as it will be much more foregiving on launch.  Get a few flights on that and then try your own glider.  A bluetooth helmet headset is mandatory as well.  It allows for two-way open mic the entire flight to allow immediate advice and feedback to come both ways.  In the fall of 2016, with a new H2 pilot on a newly flown glider and a bluetooth headset, we got in 17 circuit flights within 2.5hrs!  He quit because he was exhausted!  :)
What you get in this course:
pre-session briefing (done BEFORE you show up to fly) with tips for improving your landing process
2hr per pilot per session (two pilots out would be a 4hr session)
6 flights minimum / 10 max
Additional flights at that session only $10ea
Falcon (or Alpha) rental if you desire/need
post-session flight analysis 
Coming sometime in 2017!!!  RobotCamera - SOLOSHOT3
 I ordered the SOLOSHOT3 on Kickstarter well over a year ago agony it should finally be shipping in March 2017.  We will be putting the "tag" on the pilot, a tracking chip, and the camera, mounted stationary on a tripod) will follow the pilot for up to 2000' away with a 65x optical zoom 4k camera...all automated!  Apparently even only recording when there is action.  What a great way to analyze your flights after the session....prove what you are doing right after and wrong!
Other features include live streaming so we will be hooking it up to the local WiFi and may be live streaming most of our sessions, training and tandems!  Use of the camera will be included in this landing clinic at no additional charge.
Current Inventory Levels
**if stock of zero is shown and you can still add the item to you cart, you can place the order and we will advise on a delivery time
0 in Stock
QUESTIONS & ANSWERS
Have a Question?
Be the first to ask a question about this.
Ask a Question
---
Share this Product