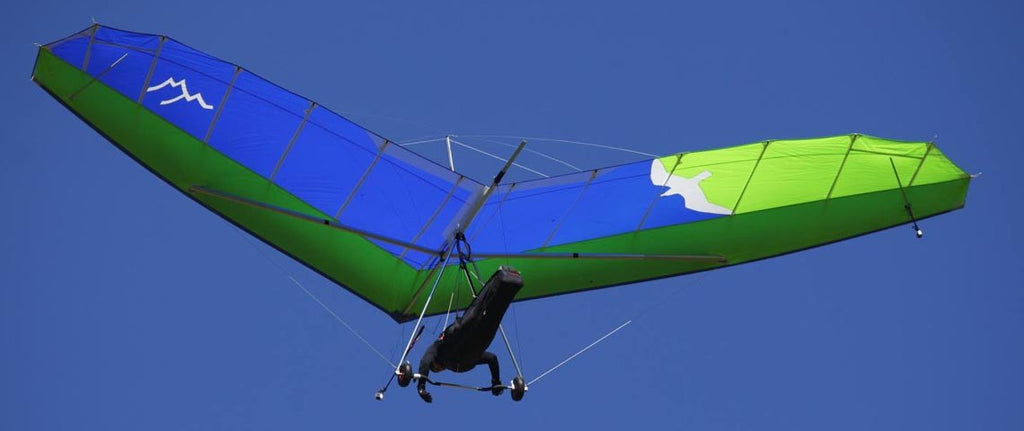 WillsWing
WillsWing Falcon4
The Falcon 4 represents twenty years of cumulative refinement of the most popular and successful glider in Wills Wing's history. Since 1994, the Falcon series of gliders have represented the most accessible, stress-free soaring performance available in hang gliding, and have helped to introduce an entire generation of new pilots to the sport.
What's New
Updates on the Falcon 4 include a new sail cut and new sail panel layout, improved lateral stability at higher speeds and under aero tow conditions, and the option for the glider to be built with a Litestream Control bar for an extra $275. The Falcon 4 comes standard with an airframe that breaks down to shipping length, but is not short-packable into the 2 meter length. The short-packable airframe is an available option on the Falcon 4 for an extra $250. The 195 size features an extra batten for improved airfoil definition, and, on the standard airframe, a smaller diameter crossbar for reduced drag and improved performance. The Falcon 4 is currently available in the 145, 170 and 195 sizes and the Falcon 4 Tandem at this page
Falcon 4 Performance
Less than ten days after the first production Falcon 3's left the factory, a demo Falcon 3 170 had been flown 205 miles by Davis Straub for a new single surface cross-country world distance record. The Falcon 4 carries forward the tradition of exceptional effective soaring performance of the Falcon line, by providing an unmatched combination of relaxed and responsive handling with exceptional climb rate and low speed glide. For developing pilots, this is a glider that will allow you to have longer flights more often, and as a result will help you improve your flying skills more rapidly. For experienced pilots, the Falcon 4 will remind you of just how simple and how enjoyable soaring flight can be.
Prices listed here may differ due to changes in exchange rate.  Price shown is based on an exchange rate of 1.27.  Shipping and other options additional
Current Inventory Levels
**if stock of zero is shown and you can still add the item to you cart, you can place the order and we will advise on a delivery time
0 in Stock
Can you provide the details of the Wills Wing Falcon 4 that you have in stock. I am interested in the short packable option for the Falcon 4 170.

I do have a short-packable F4-170 in stock....brand new sail!

Email me at mark@instinct.pro and I will send you more pics and info.
---
Share this Product
---
More from this collection